Zentro Steel Smokeless Fire Pit Insert
---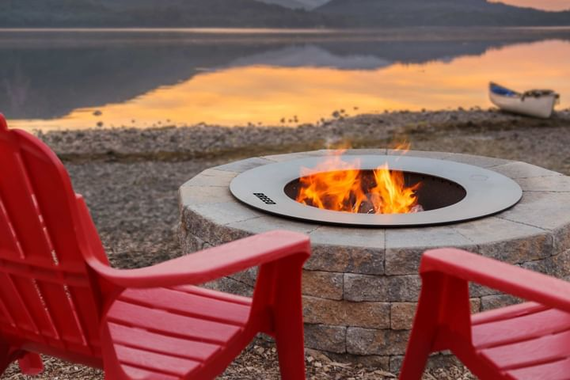 Description
The Zentro smokeless fire pit insert makes a perfect addition to your backyard!

Designed to slide easily into a new or existing block or masonry fire pit, the Zentro is the ultimate fire pit upgrade!

Sleek & modern, with clean lines and an air of sophistication, while maintaining the raw & primal aesthetic of real wood fire.

Now with our

patent-pending X Airflow system

for optimal primary air!

No moving parts, simply drop into your paver, block or stone fire pit and you are done!

Zentro is built

100% in America

and is backed by a Lifetime Warranty. Each unit weighs over 100 pounds of heavy gauge steel!
Due to this product being made of steel, it is prone to rust with exposure to the combination of fire and the elements. A touch-up paint kit is included with each fire pit unit; feel free to let it develop a natural patina over time or touch up the paint from time to time.
This product can reach potential temperatures of 1,900+ degrees Fahrenheit. At this point, there is no paint that can withstand both direct flame contact and outdoor use. We paint our fire pits with a high-temp outdoor grill paint that has a heat rating up to 1,400 degrees Fahrenheit. However, with use and time, the fire pit will begin to develop surface rust. For this reason, we build our fire pits to be heavy duty so they will last for years despite the rust. The painted look can be maintained with regular touchups with high-temperature paint.
Zentro 24" Smokeless Fire Pit Insert
Inside Diameter: 24"

Height: 12"

Weight: 104 lbs.

Fits into 27"-33" block ring inside diameter
Zentro 28" Smokeless Fire Pit Insert
Inside

Diameter

: 28"

Height: 12"

Weight: 110 lbs.

Fits into 31"-37" block ring inside

diameter
Zentro 32" Smokeless Fire Pit Insert
Inside Diameter: 32"

Height: 12"

Weight: 120 lbs.

Fits into 35"-41" block ring inside

diameter
---
Quantity